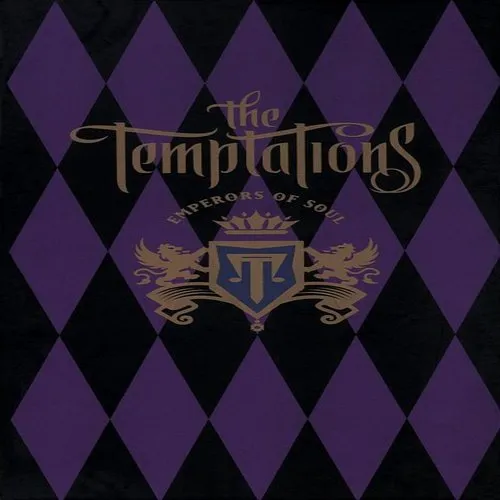 Details

Format: CD
Label: MOTOWN
Catalog: 530338
Rel. Date: 09/20/1994
UPC:

731453033825
Emperors Of Soul
Artist:
The Temptations
Format:
CD
New:
IN STOCK AT OUR STORE
Used:
Used Items are fully guaranteed to be free from defects, and good as new.
Wish
Formats and Editions
1. Come On
2. Oh Mother of Mine
3. Romance Without Finance
4. Check Yourself
5. Dream Come True
6. Mind Over Matter (I'm Gonna Make You Mine)
7. I'll Love You 'Till I Die
8. Paradise
9. Slow Down Heart
10. I Couldn't Cry If I Wanted To
11. Witchcraft (For Your Love) - (previously unreleased)
12. I Want a Love I Can See
13. Further You Look, The Less You See, The
14. Farewell My Love
15. Tear From a Woman's Eyes, A
16. Way You Do the Things You Do, The
17. I'll Be in Trouble
18. Girl's Alright With Me, The
19. Girl (Why You Wanna Make Me Blue)
20. Baby, Baby I Need You
21. My Girl
22. Nobody But My Baby, (Talking 'Bout)
23. It's Growing
24. You'll Lose a Precious Love
25. Since I Lost My Baby
26. You've Got to Earn It
27. My Baby
28. Don't Look Back
1. Get Ready
2. Fading Away
3. Ain't Too Proud to Beg
4. Too Busy Thinking About My Baby
5. Who You Gonna Run To
6. Beauty Is Only Skin Deep
7. I Got Heaven Right Here on Earth - (previously unreleased)
8. I'm Losing You, (I Know)
9. All I Need
10. Sorry Is a Sorry Word
11. I'm Doing It All - (previously unreleased)
12. No More Water in the Well
13. You're My Everything
14. Just One Last Look
15. Angel Doll - (previously unreleased)
16. It's You That I Need, (Loneliness Made Me Realize)
17. Don't Send Me Away
18. Hello Young Lovers
19. Ol' Man River - (previously unreleased, alternate version)
20. I Wish It Would Rain
21. I Truly, Truly Believe
22. I Could Never Love Another (After Loving You)
23. Please Return Your Love to Me
24. How Can I Forget
25. For Once in My Life
26. (Untitled) - (hidden track)
1. Cloud Nine
2. Why Did She Have to Leave Me (Why Did She Have to Go)
3. I'm Gonna Make You Love Me
4. I'll Try Something New
5. Runaway Child, Running Wild
6. Don't Let the Joneses Get You Down
7. I Can't Get Next to You
8. Message From a Black Man
9. War
10. Psychedelic Shack
11. Hum Along and Dance
12. Ball of Confusion (That's What the World Is Today)
13. Ungena Za Ulimwengu :: Unite The World
14. Just My Imagination (Running Away With Me)
15. Take a Look Around
16. It's Summer
17. Superstar (Remember How You Got Where You Are)
18. I Ain't Got Nothin'
19. Mother Nature
20. Papa Was a Rolling Stone
1. Masterpiece
2. Plastic Man
3. Hey Girl (I Like Your Style)
4. Law of the Land - (alternate mix, previously unreleased)
5. Let Your Hair Down
6. Heavenly
7. You've Got My Soul on Fire
8. Happy People
9. Shakey Ground
10. Glasshouse
11. Song For You, A
12. Memories
13. Keep Holdin' On
14. Darling, Stand by Me (Song For My Woman)
15. Who Are You
16. In a Lifetime
17. Power
18. Isn't the Night Fantastic
19. Aiming at Your Heart
1. Standing on the Top Pt. 1
2. Sail Away
3. Treat Her Like a Lady
4. My Love Is True (Truly For You)
5. Do You Really Love Your Baby
6. Magic
7. Lady Soul
8. I Wonder Who She's Seeing Now
9. Look What You Started
10. Soul to Soul
11. Special
12. My Kind of Woman - (previously unreleased)
13. Hoops of Fire
14. Error of Our Ways - (1994)
15. Givin' U the Best - (1994)
16. Elevator Eyes - (1994)
17. Blueprint For Love - (1994)
Details:
Boxed Set

Reviews:
''Emperors of Soul'' is a 1994 box set compilation for The Temptations, released by Motown Records. The five-disc collection covers the Temptations' entire four-decade history, from the first recording of The Distants in 1959 ("Come On") to four new recordings by the then-current Temptations lineup of Ali-Ollie Woodson, Theo Peoples, Ron Tyson, and stalwart members Otis Williams and Melvin Franklin.
The first two discs and the first half of the third disc collect the original mono versions of the Temptations' most popular singles, including "My Girl", "Ain't Too Proud to Beg", and "Just My Imagination (Running Away with Me)", and several b-sides, album tracks, and unreleased songs. The rest of the set continues on through the 1970s, 1980s, and 1990s with later hits, album tracks, and unreleased songs. - Wikipedia
back to top