Eels Souljacker + Bonus Disc US 2-CD album set
Eels Souljacker + Bonus Disc US 2-CD album set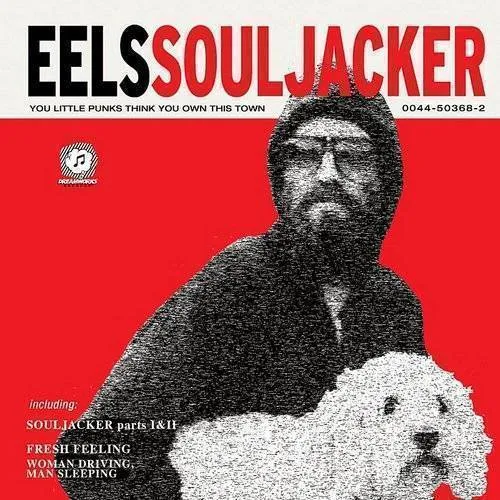 Details

Format: CD
Label: DREAMWORKS
Catalog: 450368
Rel. Date: 03/12/2002
UPC:

600445036826
Souljacker
Artist:
Eels
Format:
CD
New:
IN STOCK AT OUR STORE
Used:
Used Items are fully guaranteed to be free from defects, and good as new.
Wish
Formats and Editions
More Info:
Eels Souljacker + Bonus Disc US 2-CD album set
Reviews:
''Souljacker'' is a studio album from Eels released on September 19, 2001 in Japan, September 24, 2001 in the United Kingdom, and March 12, 2002 in the United States. The American release was delayed due to the lack of "radio-friendly singles" record companies wanted.
Unlike some of Everett's other albums, most notably ''Electro-Shock Blues'', ''Souljacker'' is mostly based on stories of outsiders rather than on Everett's own life. Characters were inspired from various sources, including circus freaks ("Dog Faced Boy") and a recording engineer with an abusive past ("Bus Stop Boxer"). German director Wim Wenders called "Woman Driving, Man Sleeping" his favorite Eels song and he used it in the segment he directed for ''Ten Minutes Older''. Wenders directed the video for "Souljacker part I", which reached #30 in the UK Singles Chart. The second track on the album, "That's Not Really Funny", was used as the theme tune to all three series of the BBC's animated comedy, ''Monkey Dust''.
The strings used in the song "Fresh Feeling" were sampled from another Eels song, "Selective Memory" from ''Daisies of the Galaxy''.
"Fresh Feeling" was featured in season 1, episode 8 of the NBC show Chuck. - Wikipedia
Listening to eels' last album, Daisies of the Galaxy, was as painful(and as entrancing) as watching a fire tear through a small apartment building.When Mark Oliver Everett—better known as the soft and cuddly E—sang,"Goddamn right it's a beautiful day," it wouldn't have beenunreasonable to ask for a second opinion. But as anyone knows, sarcasm can workwonders for a moody disposition.

While the satirical Souljacker isn't devoid of acousti-pop or musicalthoughtfulness, fuzzed out, full-on rock moments set the pace of the record. JohnParish, who has produced with PJ Harvey and Sparklehorse, climbs on board forthis record, lending his serrated, thoughtful edge to songs like "Dog FacedBoy," "That's Not Really Funny," and "What Is This Note?""I'm the man, baby. I am the man. This is where I can make you understand,"sings E on "Bus Stop Boxer," a modest yet defiant anthem about a youngE with a lot to prove. But this isn't run of the mill machismo, and his mildlyself-effacing tone has always helped us see his way clearer. The silver liningstolen from Daisies' "It's a Motherf*****" winds upon the love song "World of S***," where E sings, "I spent so manydays just staring at the haze, and I think that that's a book that I don'thave to write again." He even seconds himself on "Friendly Ghost"with the lyric, "I've been carrying 'round a grudge, think I'dbetter forgive." The arrangements are still very simple, as images of birds,bunnies and spirits do battle with soul stealers and werewolves. Playskool beatscarry the tempo in "Fresh Feeling," while chunkier rhythms sustain theSonny Landreth meets Soul Coughing "Jungle Telegraph." Mark Everettis one of pop music's most gifted songwriters; a vivid, modest poet who'staken just as much as he's dished out.
back to top