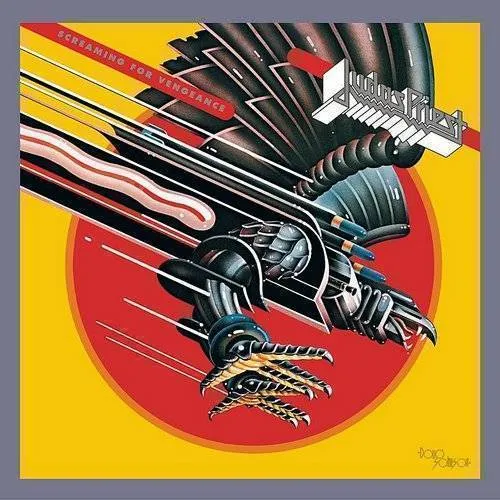 Details

Format: CD
Label: Sbme/Legacy
Catalog: 85435
Rel. Date: 05/29/2001
UPC:

696998543522
Screaming For Vengeance
Artist:
Judas Priest
Format:
CD
New:
IN STOCK AT OUR STORE
Used:
Used Items are fully guaranteed to be free from defects, and good as new.
Wish
Formats and Editions
Details:
Remastered
Incl. Bonus tracks

Reviews:
''Screaming for Vengeance'' is the 8th studio album by British heavy metal band Judas Priest. The album was recorded at Ibiza Sound Studios, Ibiza, Spain and mixed at Beejay Recording Studios and Bayshore Recording Studios in Florida. It was first released on July 17, 1982. A re-mastered CD was released in May 2001.
<blockquote>"From an unknown land and through distant skies came a winged warrior. Nothing remained sacred, no one was safe from the Hellion as it uttered its battle cry...Screaming for Vengeance."</blockquote>
:-- Album back cover
The album reached #11 in the UK and #17 on Billboard 200 Pop Albums and made Judas Priest much more popular than they were after their British Steel album. It went Gold (RIAA) on October 29, 1982, Platinum on April 18, 1983 and Double Platinum on October 16, 2001, being their first album to achieve the two latter awards. This album also includes their hit "You've Got Another Thing Comin'" and one of their most-popular on-stage performances, "Electric Eye".
The band wrote about the bonus track "Prisoner of Your Eyes" in the remaster booklet as follows:
<blockquote>"This is one of two versions of this particular song – the second version having a different chorus. The majority of this track is still as it was put down at the time but with lead breaks from Glenn and K.K. added at a later date. It's very emotional and epitomises the light and shade style of Judas Priest which is the trademark of the band."</blockquote>
The album came 15<sup>th</sup> on IGN's 25 most influential metal albums. ''Screaming for Vengeance'' also came 10<sup>th</sup> on Metal-Rules.com's 100 greatest metal albums. During the U.S. tour to support the album in 1982, Judas Priest were supported by bands such as Iron Maiden and Uriah Heep (in support of their album ''Abominog'').
This album was the first entire album released as downloadable content for the video games ''Rock Band'' and ''Rock Band 2''.
The title song "Screaming for Vengeance" was played on the main site for the video game ''Brütal Legend''. Rob Halford plays both a villain in the game (named General Lionwhyte) and a heroic character called the Fire Baron. - Wikipedia
back to top