"Drawing inspirations from heavy hitters like Johnny Cash, Hank Williams (1 and 3) and Wayne Hancock, Poke is undeniably country. As my buddy Levi assured me though, they're definitely not run of the mill. Sure they have the heart and sentimental souls but they also have some attitude and a lot of spunk. They're the type of band who can make country appealing to just about anybody." — Francis Delapena, boisebeat.com
"Drawing inspirations from heavy hitters like Johnny Cash, Hank Williams (1 and 3) and Wayne Hancock, Poke is undeniably country. As my buddy Levi assured me though, they're definitely not run of the mill. Sure they have the heart and sentimental souls but they also have some attitude and a lot of spunk. They're the type of band who can make country appealing to just about anybody." — Francis Delapena, boisebeat.com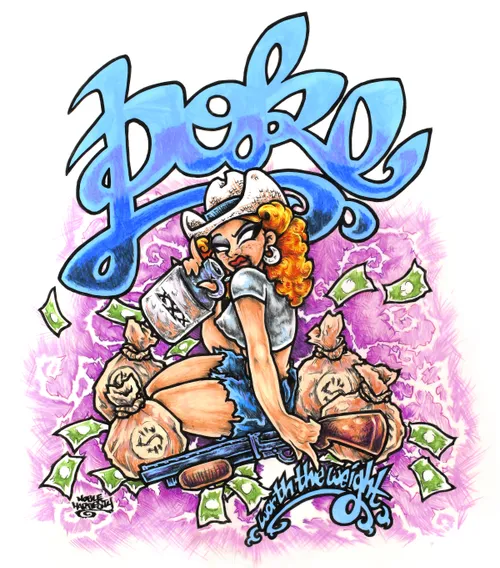 Details

Format: CD
Label: Poke
Rel. Date: 09/28/2011
UPC:

798304190786
Worth The Weight
Artist:
Poke
Format:
CD
New:
IN STOCK AT OUR STORE
Used:
Used Items are fully guaranteed to be free from defects, and good as new.
Wish
Formats and Editions
Details:
Poke's first CD, "Worth the Weight" features Idaho's top country performers. The new CD will be on sale ($9.99) starting September 29 at the Record Exchange, where Poke will perform an in-store concert at 6pm for all ages.

More Info:
"Drawing inspirations from heavy hitters like Johnny Cash, Hank Williams (1 and 3) and Wayne Hancock, Poke is undeniably country. As my buddy Levi assured me though, they're definitely not run of the mill. Sure they have the heart and sentimental souls but they also have some attitude and a lot of spunk. They're the type of band who can make country appealing to just about anybody." — Francis Delapena, boisebeat.com
Reviews:
"Drawing inspirations from heavy hitters like Johnny Cash, Hank Williams (1 and 3) and Wayne Hancock, Poke is undeniably country. As my buddy Levi assured me though, they're definitely not run of the mill. Sure they have the heart and sentimental souls but they also have some attitude and a lot of spunk. They're the type of band who can make country appealing to just about anybody."
— 
Francis Delapena, 
boisebeat.com
"Drawing inspirations from heavy hitters like Johnny Cash, Hank Williams (1 and 3) and Wayne Hancock, Poke is undeniably country. As my buddy Levi assured me though, they're definitely not run of the mill. Sure they have the heart and sentimental souls but they also have some attitude and a lot of spunk. They're the type of band who can make country appealing to just about anybody."
— 
Francis Delapena, 
boisebeat.com
back to top